Simon Haines
Simon has been playing  folk music since the late 1970s: in ceilidh bands, notably Bass Instincts, Harkelees, and currently  The Hosepipe Band, as well as in folk club groups Rough Justice, Sticks, Crownstreet and most recently Rosewood.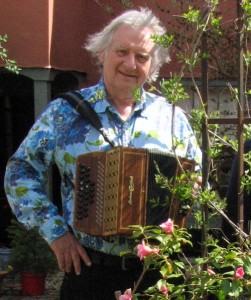 Mainly a melodeon / anglo concertina player, he  also plays hurdy gurdy, and bandoneon on occasions. He discovered French music in the 1980s through the playing of accordeon wizards Marc Peronne and Frederic Paris, who between them proved that  it was possible to play across the rows of a two-row melodeon. Simon has composed many dance tunes, among them – waltzes, mazurkas, schottisches etc.
Simon plays Gaillard melodeons, a Jeffries concertina, a Siorat hurdy gurdy and a bandoneon by Harry Geuns.
Phil Lyons
Phil has been a singer, musician and dancer on the English folk scene since the 1970's . He has been heavily involved in French traditional music and dance since the 1990's, playing,  performing and dancing at festivals and events in France and the UK.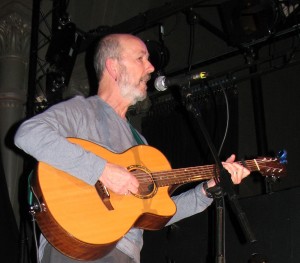 He has accumulated a wide knowledge of French and Breton dances which he teaches at workshops. Phil sings in French and lately he has started bringing his own tune compositions to the band's repertoire.
Phil is also a member of Rosewood and, on occasions, plays bass with The Hosepipe Band.
Phil plays Bartram and Lowden guitars and an Aria bass guitar.
Gwendal Moële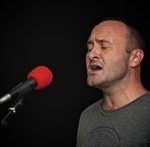 Gwendal played on and off with Bof! since 2012 and sang several songs on our 2013 album Bal!  He is now a full-time meber of the band.
Originally from Languidic near Lorient in Britanny and is a consummate singer of songs in both French and Breton. His singing style, whether solo or with Phil Lyons, is perfect for dancing. In addition to singing with Bof!, Gwendal also sings with guitarist Paul Riley, a duo which specialises in chansons of the mid- to late- 20th century. (Note: Gwendal does a great Piaf!). He also sings in No Strings attached, an a capella duo with singer Catherine Legg. Their repertoire is French and English.
Val Woollard
Val has been a musician since first breathing into a recorder many years ago and realised that it was a more preferable form of communication than talking. The recorder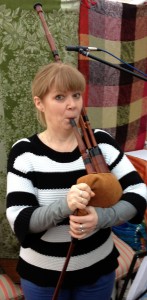 playing of Phil Pickett with the Albion Band convinced her that there was mileage in folk music for this much maligned little instrument.
Since then she has added many instruments to her collection including hammered dulcimer, bagpipes, flute, saxophone, bells and violin. Val has had many years experience playing for French and English dance, moving on from various Suffolk sessions and scratchbands to Bass Instincts, Harkelees, The Hosepipe Band Bof! and Rosewood.
Val plays Bagpipes (Swayne), Recorders (Moeck), Saxophone (Yamaha), Hammered dulcimer (Giddings), Crumhorn (Korber) Hautbois Languedocienne, Flute and Desk Bells.

Paddy Butcher
Like a lot of old folkies, Paddy started out in skiffle, moving on to folk song in the '60s.
For many years he was involved with the folk club in Bury St Edmunds, playing guitar & singing around the folk clubs.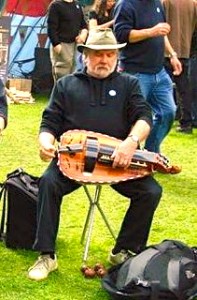 Whilst playing melodeon for and dancing with a few Morris sides, he got into the ceilidh band scene, playing in, amongst others, Trunkles, The Suffolk Bell & Horseshoe Band and RSVP.
Following a dance exchange to Angers, France, he was inspired by the group Ellebore to play French tunes. The hurdy gurdy  followed in the mid '80s and the inspiration continued, aided by the brilliant Blowzabella and umpteen visits to French festivals,  meeting up with other like minded souls, and thus Bof!
Paddy plays gurdies by  Paddy Butcher & Bernard Kerboeuf, melodeons by Bertrand Gaillard, and percussion: cajon and cas-cas.
Paddy is no longer a full-time member of Bof!