We are currently in the process of making a new recording: Nouveau. It will consist of 10 song tracks – all suitable for dancing. It should be out at the beginning of October.
Bof! have made five CD recordings. Le Meilleur de Bof! is a 17-track compilation from our first three recordings, which are now available separately  as downloads from Bandcamp – see below)
Bal! is our most recent new recording.

Click on blue titles to hear sample tracks.
LE MEILLEUR DE BOF! –  visit SHOP
All tracks remastered from original recordings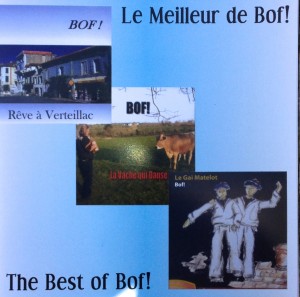 1    Bourree de Thiers (Trad.)
2    La Fille du fermier (Trad.)
3    Vert printemps / En Flandres (F. Paris)
4    J'ai trois vaisseaux (Trad.)
5    Reve a Verteillac (P. Lyons)
6    Bourrée des Gars / Bourrée a Dechaux (Trad.)
7    Trois Petites Notes de Musique (G. Delerue & H. Colpi)
8    Pachi Pi (Trad.)
9    La Voile au Vent (Trad.)
10  Scottish du Flotteur / Scottisch Brassens (Trad. / G. Brassens)
11  Valse du Meulé (Trad.)
12  Le Chant des Ouvriers (P.Dupont)
13  La Pauvre Madeleine (Trad.)
14  Valse des Fleurs (S.Haines)
15  Rond de Saint-Vincent (Trad.)
16  L'Amant de Nantes (Trad.)
17  Kost ar C'hoat (Trad. / P. Lyons)
BAL featuring Gwendal Moële – Visit SHOP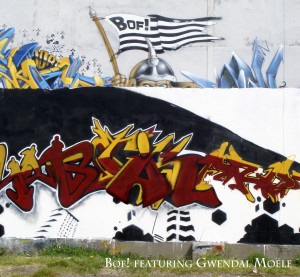 1    Bourrées a Stephane / Pacotille (S. Durand)
2     Mon amant de Saint-Jean (L. Agel / E. Carrara)
3     Kas A Barh (Trad. / Y. Dour)
4     L'Inconnu de Limoise (M. Heintzen)
5     Halsway Schottische (N. Eaton.)
6     Ridees Six Temps (Trad.)
7     Waltzes (Trad.)
8     Quatre Marins (Trad. / H. Aufray)
9     Suite Plinn (Trad./ Trad. / G. Le Bigot)
10   A Nevers (Trad. / P. Lyons)
11   Polkas Piquées d'Allard  (Trad. )
REVE A VERTEILLAC  – 2005   now available as download from http://bofmusic1.bandcamp.com/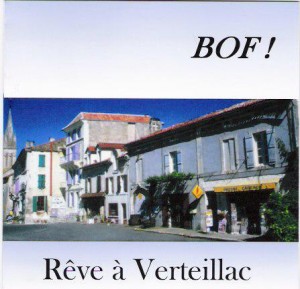 1    Verteillac (P. Lyons)
2    Scottish du Père Baptiste (E. Raillard)
3    La Fille du fermier (Trad.)
4    Trois bourrées (Trad.)
5    Mazurka à Gaucher (Trad.) / L'Inconnu de Limoise (M. Heintzen)
6    J'ai trois vaisseaux (Trad.)
7    Bourree de Thiers (Trad.)
8    Vert printemps / En Flandres (F. Paris)
9    Rondos (Trad.)
10  Bourrée droit du Morvan / La Montagnard (Trad.)
11  Rose (J-C. Blanc)
12  Verteillac reprise (P. Lyons)
LA VACHE QUI DANSE – 2007  now available as download from http://bofmusic1.bandcamp.com/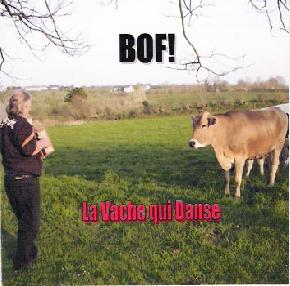 1    Bourrée des Gars / Bourrée a Dechaux (Trad.)
2    Pachi Pi (Trad.)
3    Trois Petites Notes de Musique (G. Delerue & H. Colpi)
4    Scottish du Flotteur/Scottisch Brassens (Trad. / G. Brassens)
5    Valse du Meulé (Trad.)
6    Fil et Bobine / Louison Louisette (J. Blanchard / F. Paris)
7    La Voile au Vent (Trad.)
8    Silver Apples / La Scottisch à Clementine (M. Gilpin / D. Levraux)
9   An Dro (Trad.)
10  Bourrée à Prieur / Alambic (P. Prieur / N. Pignol)
11  Borombondo (E. Jaillet)
12  Suite Gavotte (Trad. / Trad. / S. Haines)
LE GAI MATELOT – 2010   now available as download from http://bofmusic1.bandcamp.com/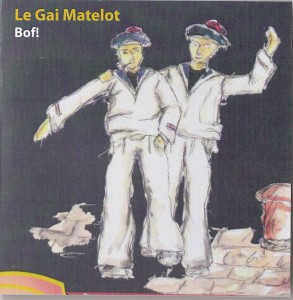 1    Ascension Day Bourrées (Trad.)
2    Valse du vielleux d'Anost (Trad.)
3    La Pauvre Madeleine (Trad.)
4    Le Chant des Ouvriers (P.Dupont)
5    Two scottishes (Trad.)
6    Kost ar C'hoat (Trad. / P. Lyons)
7    Valse des Fleurs (S. Haines)
8    Rond de Saint-Vincent (Trad.)
9    L'Amant de Nantes (Trad.)
10   Valse des Fleurs (S. Haines)
11   Il n'y a plus de temps (M. Pichon)