OCTOBER 2021
It's a disgrace that this news page has not been updated for three years. But then again, not that much has happened. We've cancelled our April Hadleigh French Weekend twice, due to the pandemic and lost 18 months' worth of gigs.
On the bright side, we've recorded and brought out a new CD – NOUVEAU and we have a few nice gigs coming up.
Here are images of our three  very enjoyable October gigs.
•  Colchester Anglo-French Circle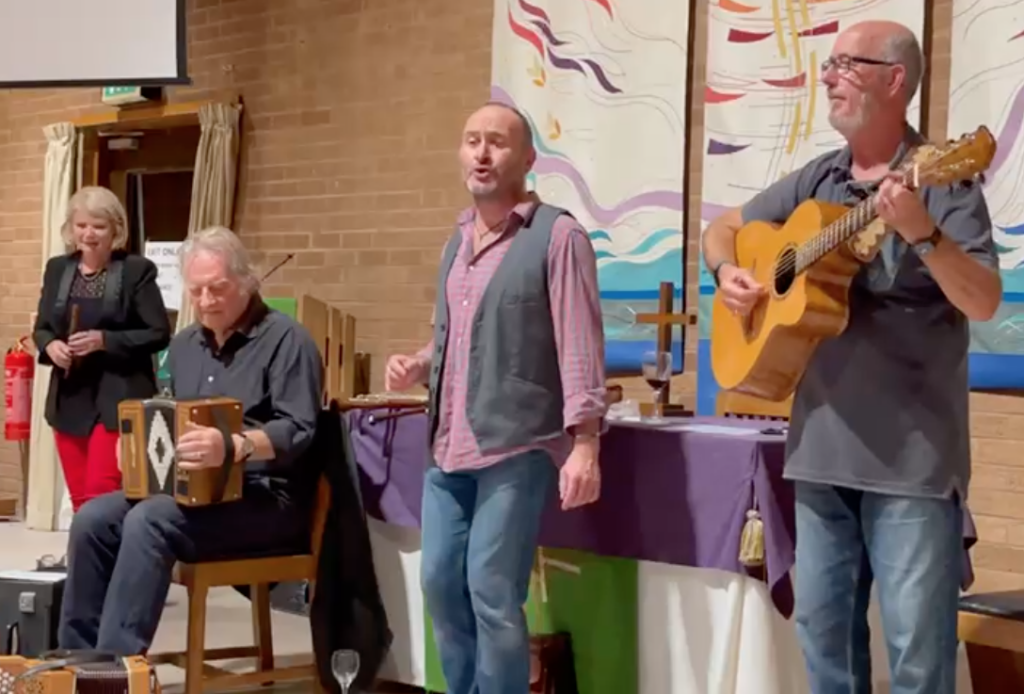 •  Haddenham Arts Centre – Jeremy Harmer's Lockdown Folk live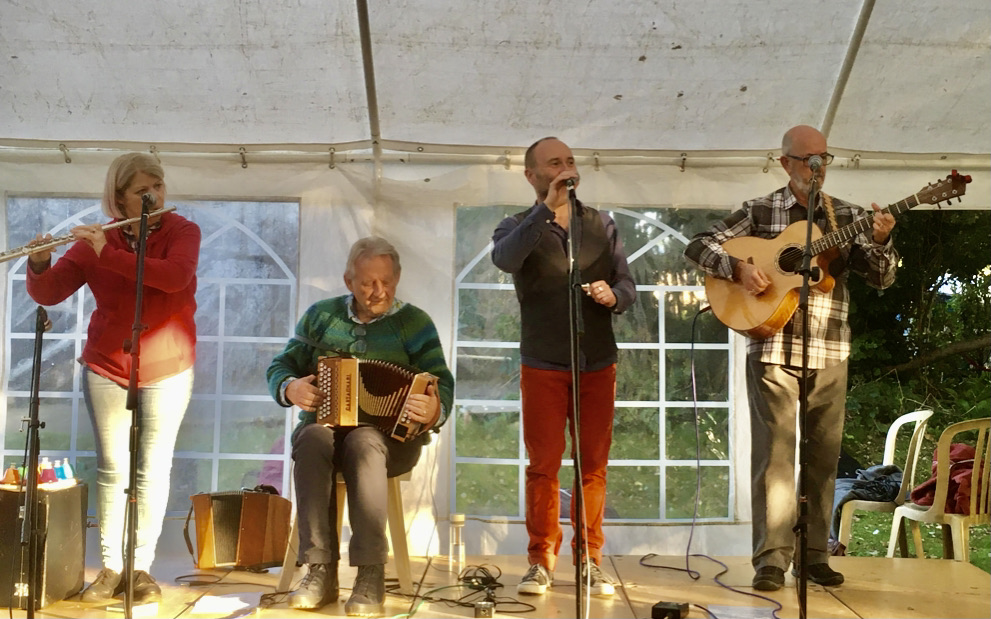 •  Wingfield Barns: French dance workshop and bal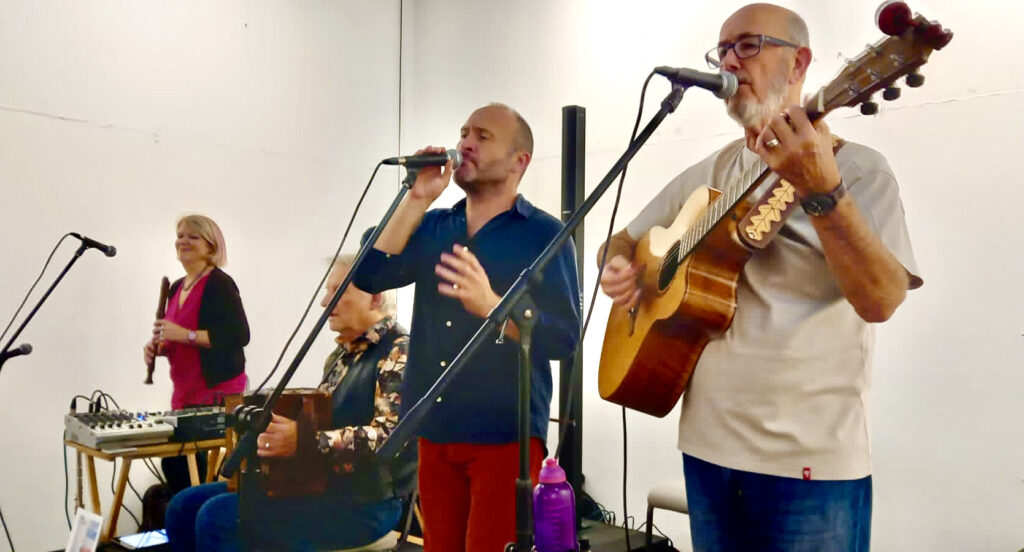 NOVEMBER 2018
We had a lovely afternoon at Les Batons in Kent on Sunday 18th, but sadly Paddy was unable to make it due to illhealth. Here's a photo of us playing L'Inconnu de Limoise.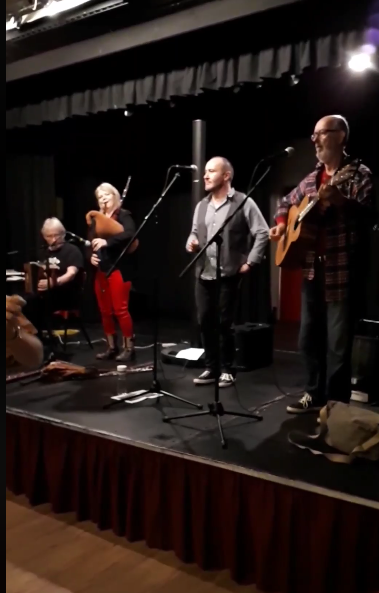 MAY 2018
On May 4th Bof! are playing for a dance at Dance Folkus at Woodbridge Community Hall. Should be a great night. If you've never done French dancing before, we can (almost) guarantee you'll have a great evening.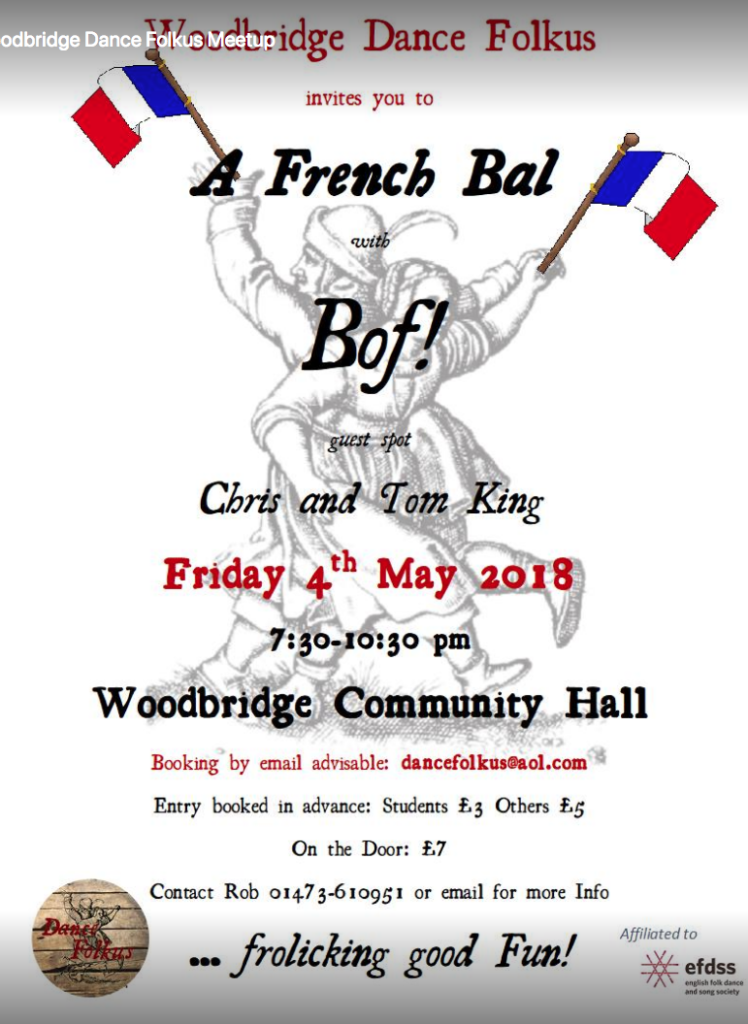 APRIL 2018
The first announcement to make is that Gwendal Moële is now a permanent member of Bof!
The new year so far has included a number of unusual gigs. In reverse order these are:
April 6-8  We took a full part in the fourth Hadleigh French Music and Dance Weekend.
On the Friday evening, as part of the regular Hadleigh Folk and Acoustic Music Nights programme, Bof! kicked off the evening's proceedings with a set of songs sung by Gwendal. This was followed by the Trio of Dave Shepherd (fiddle), Jo Veal (clarinette) and Anna Pack (accordion and clarinet). The evening was rounded off by the mighty La Chavannée from Chateua-sur-Allier in the Berry region of France.
Saturday morning saw Bof! running a Basic French Dance workshop. This year we attracted a dozen or so beginners.
The bal started with the musicians from the Prêt à Danswer group from Colchester. Bof! Shepherd, Pack and Veal followed and ending finished again with La Chavannée.
Early afternoon on the Sunday saw musicians and dancers reassemble to play and dance.
All in all a great weekend.
March 31 Bof! rounded off the Essex Book Festival with a concert/dance in the Jaywick Martello Tower. We didn't quite know what to expect but the audience listened intently during the first half. During the break – when Vichyssoise was served and wine was drunk. In the second half we were able to get a goodly number of the audience up and dancing.
March 10  We played for a fund-raising dance at Old Hall Community in East Bergholt.
February 24  Bof! played for the regular Dansez Français group at Patcham just outside Brighton. In the afternoon, Gwendal Moële and Carol Carter ran a Breton singing workshop.
OCTOBER 2017
Anther great night supporting Home Service at Grayshott Folk Club in St Alban's Church, Hindhead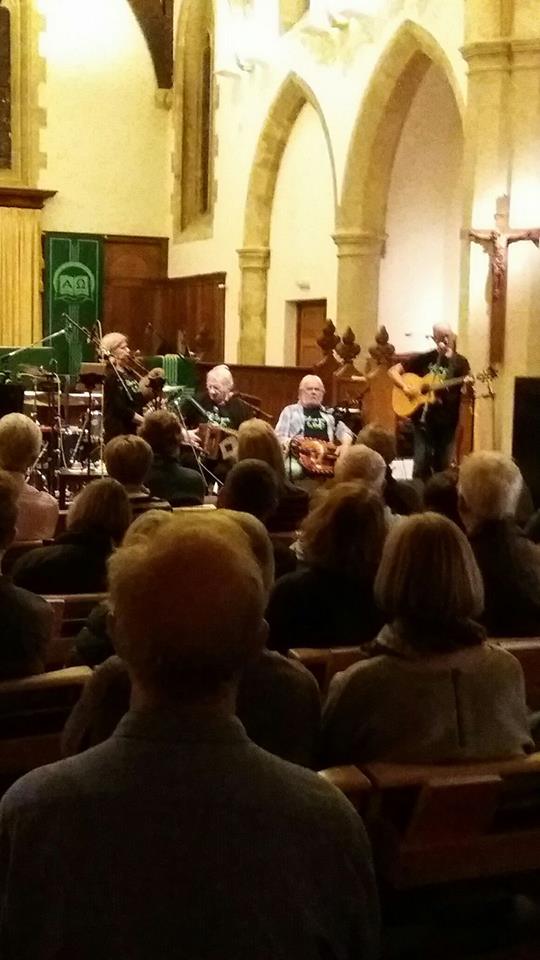 OCTOBER 2016
Bof! had a great evening supporting Frankie Gavin and De Dannan at The Marlowe Theatre in Canterbury on 20th October as part of Canterbury Festival of the Arts.
AUGUST 2016
It hasn't been a busy year, but there has been some news and we've had some good gigs, Here are a few of the highlights from 2015, then 2016.
•  June 15 (2015) – we played at Leigh-on-Sea Festival. It was a glorious day and we had an appreciative audience.
•  September 2 – we played for the lovelt Pied à Terre group in Norwich.
•  October 10 – we shared an evening at Colchester's Headgate Theatre with Gwendal Moële and Paul Riley.  There was a capacity audience – people had to be turned away. We will certainly repeat this in the future.
•  April 8 (2016) – we drove all the way to Grayshot in Hampshire to support the great Irish band Altan at Des O'Byrne's flourishing Grayshot Folk Club. A glorious 30 minutes and we sold out of CDs. Certainly a night to remember.
•  April 17 – We played for the second Hadleigh French Music and Dance weekend. On the same bill for the bal were the wonderful Duo Synkro and Dave Shepherd and Anna Pack.
•   July 2 – With Gwendal, but without Phil, we played at Bury Folk festival – a lovely, friendly event.
•   July 23 – We supported the world premiere gig by the extremely talented and exciting Firestarters of Leiden: Dave Shepherd, Simon Gielen and the not-often-heard-enough hurdy gurdy wizard, Nigel Eaton. It was a great night and we had an enthusiastic crowd of dancers.
•  August 17 – We returned to Folk East after a year's absence. On the Friday evening we started with a dance workshop for 60+ people, followed immediately by a two-and-a-half-hour bal in the festival's new dedicated dance marquee.
JUNE 2015
We are pleased to announce that Breton singer, Gwendal Moële, will be joining us for more of our bookings from now on.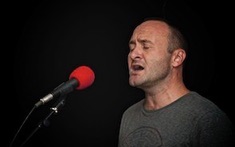 Gwendal recorded songs with us on our  CD, Bal, is a member of the band Trio Saozon and sings in a duo with Paul Riley and a duo with Catherine Legg in No Strings Attached. Gwendal sings many different kinds of songs and is especially effective in singing for kan ha diskan Breton dancing. You can hear an example of this on the track Quatre Marins on our CD Bal.
MARCH 9 2015
Hadleigh Folk and Acoustic Music Night Friday March 6 was devoted to music from France, Brittany and Belgium. In addition to being a normal club evening, it was also  a taster for a full day of music and dance held on Saturday March 7.
Bof! opened the Friday evening and were followed by Katskoo from Belgium, local band Trio Saozon and finally the Anglo-Belgian Duo Shepherd-Gielen.
During the day on Saturday there were music and dance workshops with a dance (Bal) in the evening. The evening dance featured Bof!, Katskoo, Duo Mistral (Chris and Caroline Shaw) and Duo Shepherd-Gielen, which from time to time became Trio Shepherd-Gielen-Eaton when they were joined by ex-Blowzabella hurdy gurdy player Nigel Eaton. This provided the perfect opportunity for a mass performance of Nigel's Halsway Scottische – 13 musicians present knew the tune and joined in. This can be seen and heard on Facebook at https://www.facebook.com/simon.haines.37
These are photos of all the bands who played over the two days.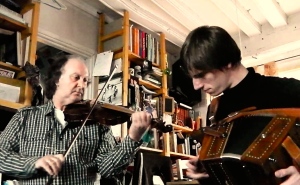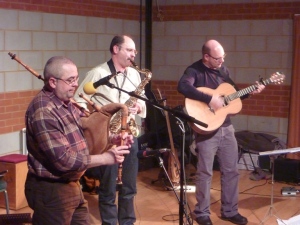 Duo Shepherd-Gielen (England/Belgium)         Katskoo (Belgium)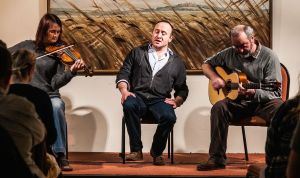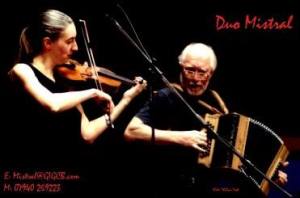 Trio Saozon (UK/Brittany)                                          Duo Mistral (UK)
This was the complete programme for the two days in pdf format
March 6-7 Programme-1  /  March 6-7 Programme-2
FEBRUARY 2 2015
We had a great evening at Colchester Arts Centre last night. A packed folk club enjoyed an evening of French music from Bof!, Trio Saozon and Paul Riley & Gwendal Moele.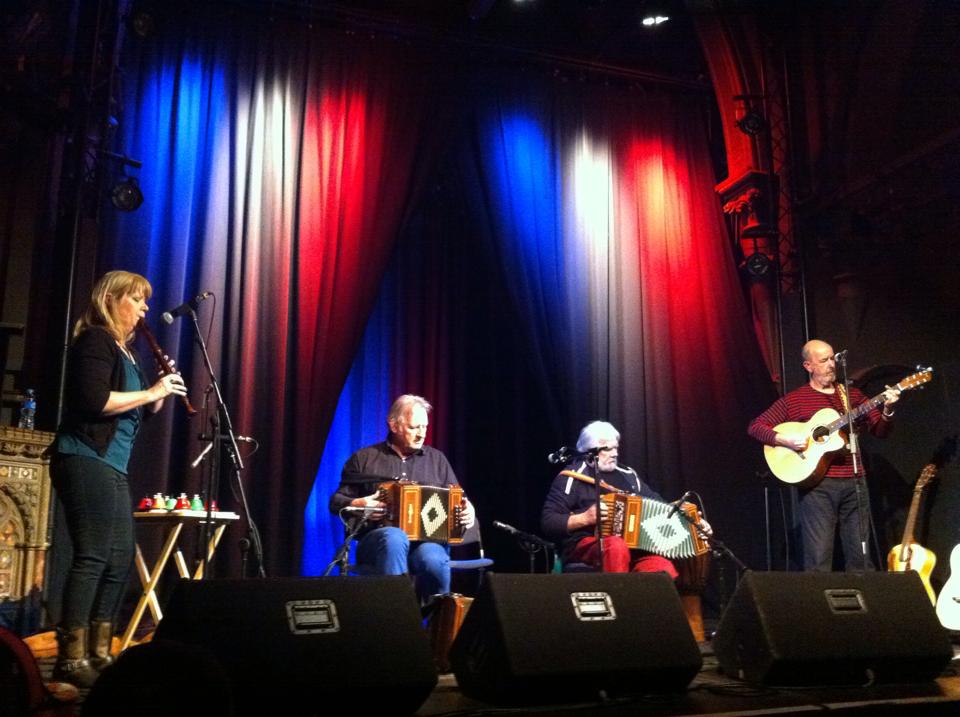 Bof! (above) played their usual mixture of songs and tunes from Central France and Brittany, while Trio Saozon (below) with their remarkable singer Gwendal Moele played their all-Breton repertoire.  Most of their songs were sung in Breton.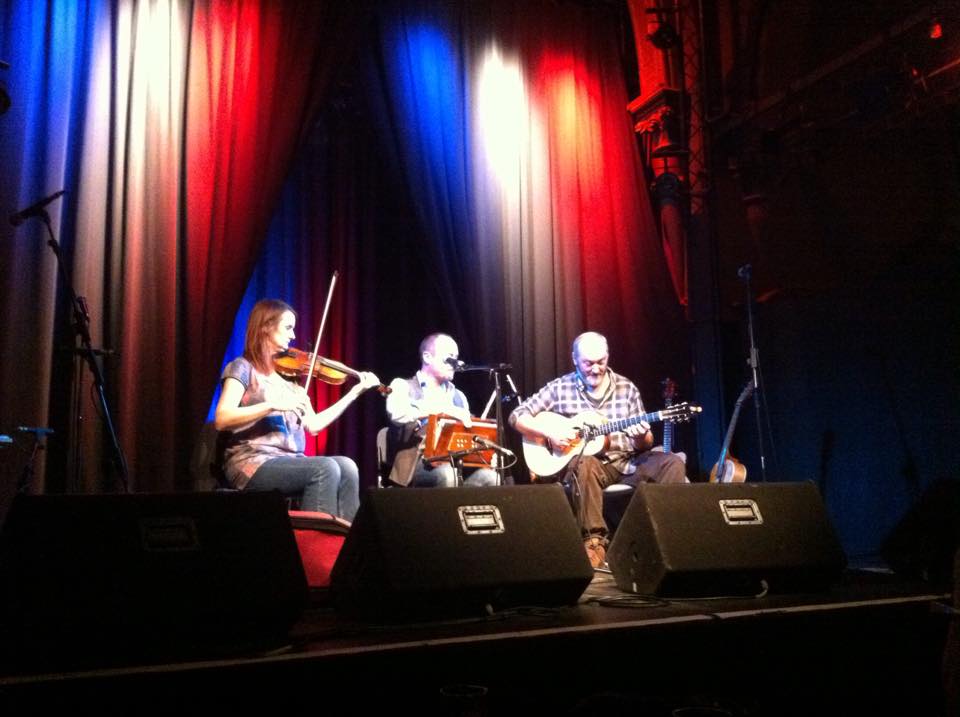 Paul and Gwendal (below) performed two non-traditional songs: Edith Piaf's Padam Padam and Jaques Brel's Quand on n'a que l'amour. Sadly we don't have recordings of Paul and Gwendal but you can hear the originals by clicking on the song titles.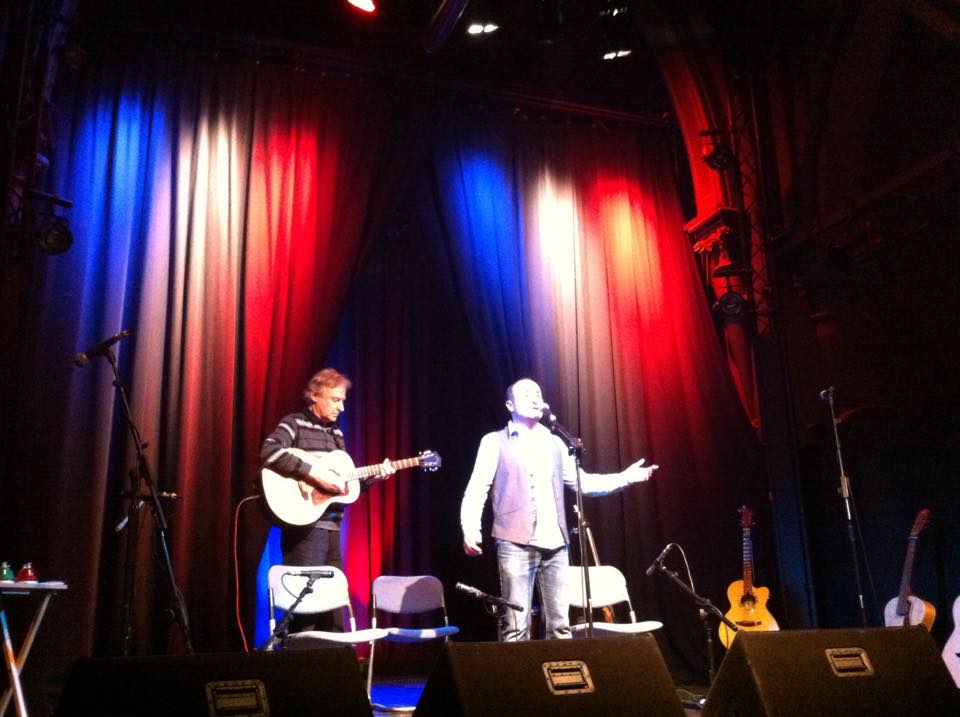 The evening ended with everyone on stage singing a Breton dance song.